TEACHERS
Soigne is pleased to grow through many guest teachers from around the world.
Their passion, commitment and broad experience makes soigne a unique place to learn.
Beata Kacy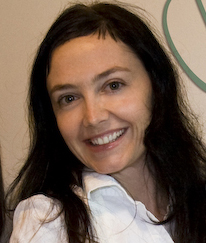 Originally from Poland, Beata Kacy is the creator and founder of Soigne. Beata is a PMC level1 Certified Instructor and She is the only Canadian holding Precious Metal Clay Teachers Certificate and  Hadar Jacobson Art in Metal Clay Accreditation Program. She pursues her life's bliss in the outdoors, finding art, in all its forms, wherever she goes. A bohemian at heart, most of her life was spent studying, experimenting with, and learning the behaviors of different medias. You can often see her expressing her creative passions on the streets of Vancouver with a camera, or in her art studio making and teaching jewelry. She has cultivated her artistic outlook during her travels around the ancient globe. As she grew into a full-fledged artist, Beata began experimenting with other mediums such as clay, concrete, resin, stone and glass. With a Master's Degree in Marketing Management and a Bachelor of Arts Degree in Computer Science, Beata further honed her artistic sense by attending Vancouver Film School. She is also a graduate from Emily Carr University where she studied Fine Arts in Practice.
On any given day, Beata can be found hard at work in her studio creating masterpiece quality jewelry and accessories. She runs her own studio alongside her partner Nik Palmer, called Octopus Studios (www.OctopusStudios.com on the East Side of Vancouver. Beata's studio is currently home to 12 artists who are cultivating their own crafting expertise at the helm of a true artistic master. Soigne Atelier was born from her passion for metalwork, nature and photography. All 3 aspects combined together allow her to explore different methods of jewelry making using glass, wood, metals, cement, resin, images and found objects. Beata's designer jewelry has been showcased in Ginger 62, Ayden Gallery, Arts of Main Locally, her designs are available at Maker Faire and East Side Culture Crawl.
Andrea Roberts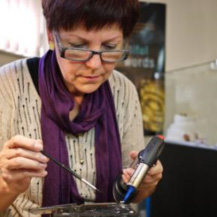 Andrea, a certified goldsmith, studied at the prestigious College for Goldsmiths in Pforzheim, Germany. After her graduation in 1989 and working in the trade she moved to Vancouver 1996 where she established her own studio.
Since 1999 she is teaching intermediate and advanced Jewelry Techniques to aspiring students at VSB Continuing Education and private study programs for all levels in her studio. The same year she became a Circle Craft Coop member selling her art work at the Granville Island store.
Her love for unusual and rare Brazilian gems are often incorporated in her designs. Andrea addresses her work to people who claim jewelry as a formal idiom of their own and is specialized in one-of-a-kind designs.
To Andrea, art is a reflection of a person's soul. Her own inspirations are drawn from nature, materials, forms and people. She uses techniques such as roller-printed textures to transform and shape her sculpture like jewelry to give a piece character and depth.
In 2002 her piece "flower of the universe" was given to the Queen of Norway by former Governor General Mrs. Adrienne Clarkson as a present of state representing Canadian Arts and Craft.
I am excited to be invited to Octopus Studios in collaboration with Beata Kacy/Director sharing some 25 years of my professional experience in the jewelry making and designing field and 15 years of mentoring aspiring students exploring their creative potential with fun and never ending curiosity.
Demer McIntosh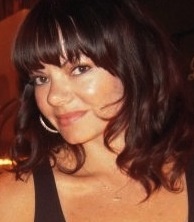 Demer received a diploma in Jewelry art and design at Vancouver Community College in 2003. Soon after graduation she won a bench scholarship at Object Design Gallery, where she launched a new line and created a solo exhibit. She also had hands on mentoring under master goldsmith Sako Khatcherian and Tamara Clark, proprietors of Object Design Gallery. In 2005 Demer set-up shop at her home, and continued to create custom made pieces of jewelry, and sell her line at Object Design Gallery, El Cartel on Robson Street and at other various boutiques. Most recently she has solely focused on only creating custom jewelry privately and experimenting with other forms of wearable art.
Demer is inspired by natures organic shapes, textures, and intricate patterns. Art Nouveau architecture and Japanese block prints often influence her style. She thrives to handcraft jewelry that is unique, personal and wearable. She works with silver, enamel, leather, hardwoods and gemstones. She often ornaments surfaces with granulation and etching. Demer enjoys experimenting with different techniques and creating new and inventive ways of applying them. Her goal has always been to push her creative vision into new dimensions, allowing herself the freedom to manifest whatever form it may take. She is excited to be a part of Soigne workshops, and looks forward to sharing her
inspiration!
Peggy Logan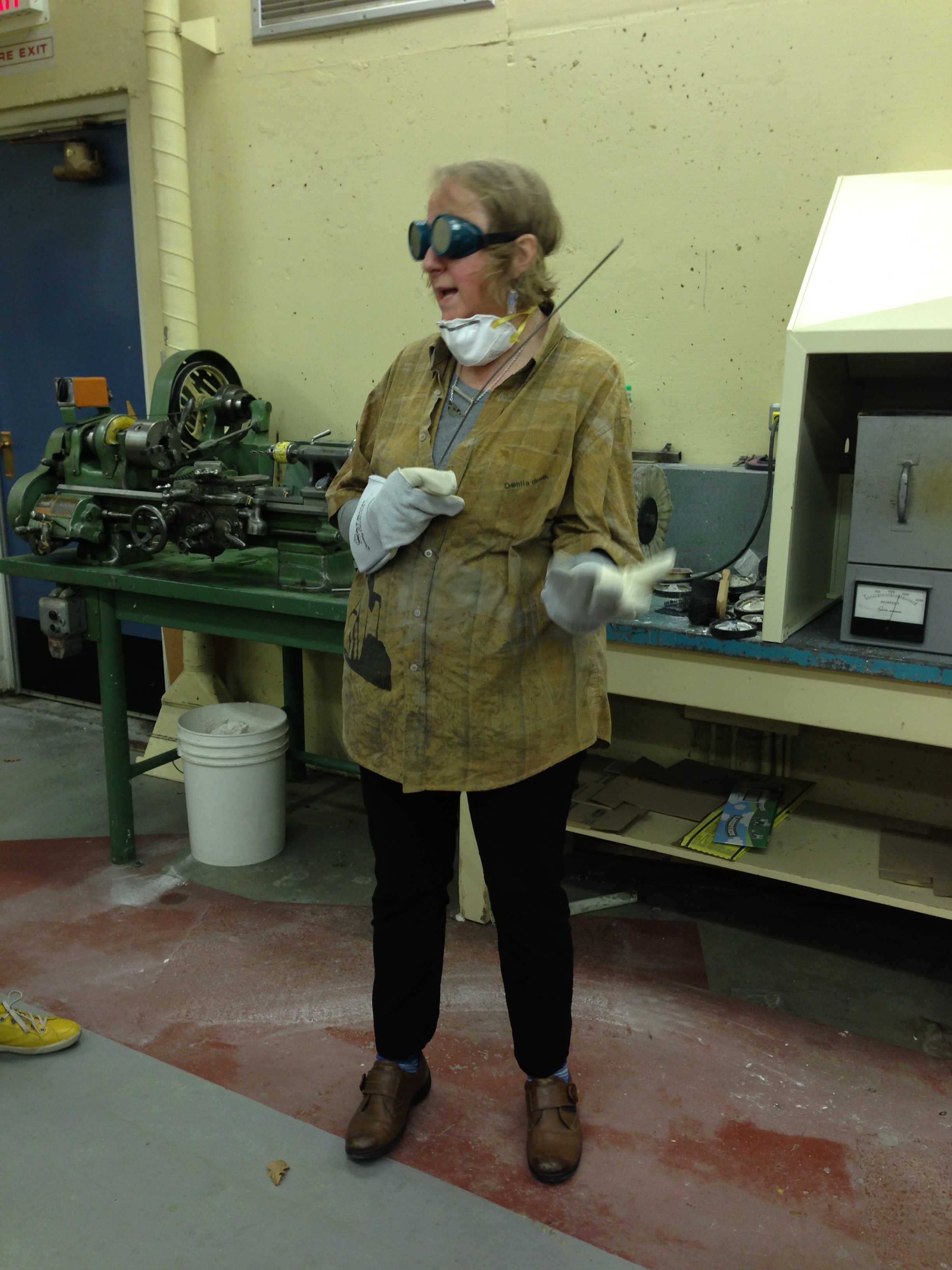 Peggy is a graduate of the George Brown College Jewellery Arts program. She majored as a goldsmith and specialized in enameling. She continued her formal art education at the Ontario College of Art and design and the Langara Fine Arts program in Vancouver. Currently she is pursuing her degree part-time at Emily Carr University.
In Ontario she fulfilled a two year residency at Harbourfrount Craft Studios. While in Toronto she combined teaching and working in the jewellery trade. She returned to Vancouver in 1986 to continue teaching jewelry, primarily for the Vancouver School Board Continuing Ed. Peggy now teaches for Langara College Continuing Studies and North Island College. Her classes have included jewellery making, enameling and lost wax casting.
In recent years she has been juried and sold work at Granville Island Public Market, Lonsdale Quay Market, Lander Village Market and Yale town Market. Janis Dean Johnson Design on Granville Island carries Peggy's work on a regular basis. The newest addition to carry her work locally is Van Yperen Jewelers on West Tenth Avenue. She has exhibited work in group shows in California, Japan, Toronto and Vancouver galleries. In 2015 she has two solo shows one at the Jericho Arts Center in Vancouver and one in New Orleans at Ariodante Gallery.
Kristal Viñas Díaz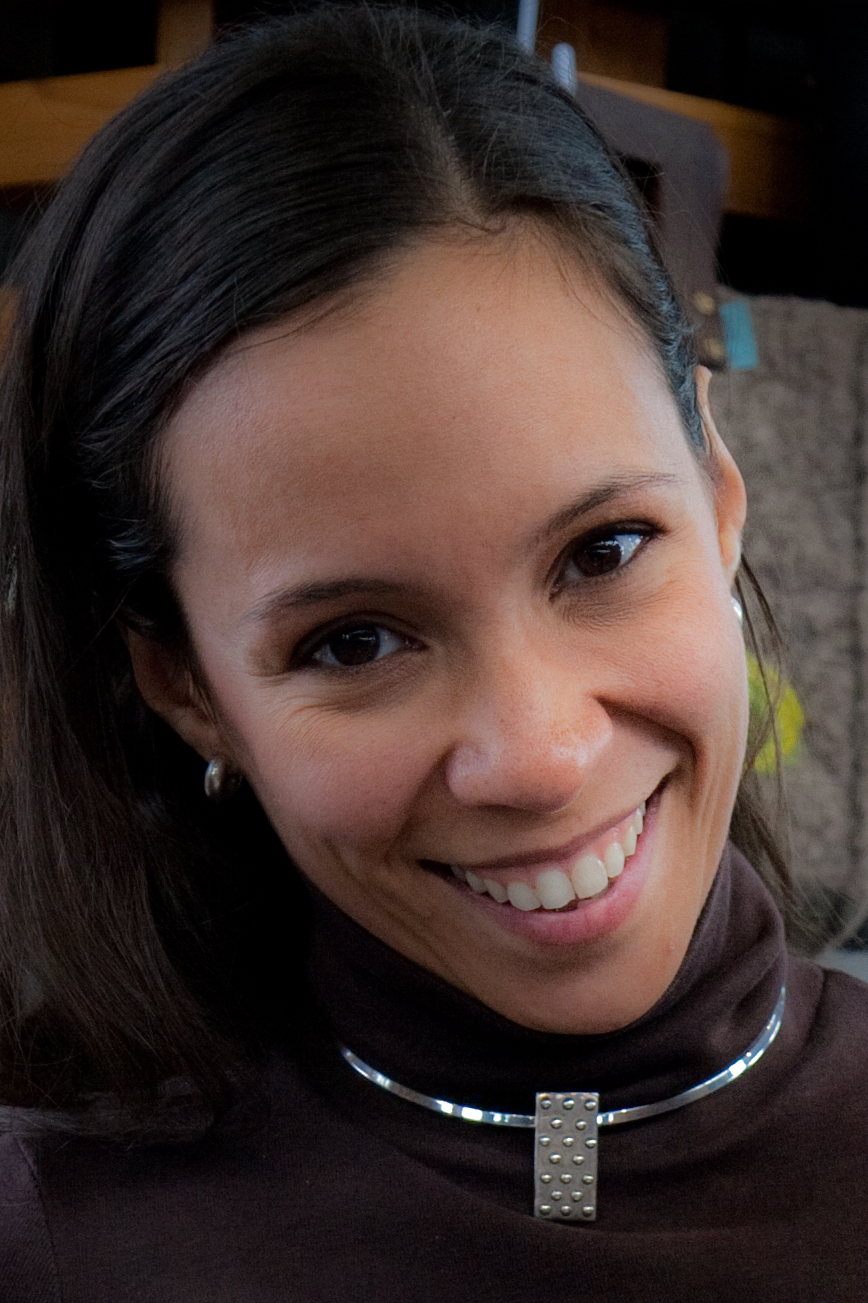 Her jewelry designs have been around for quite long before she decided to shift gears and become a full time jewelry designer which also includes to share her jewelry making passion with her students.
She obtained a Bachelors in Industrial Design and a Masters in Design, Management and New Products Development, and her work is definitely influenced by her strong background as designer, expertise in different design fields, active involvement in all sort of crafts since she was just a little child, and a truly passion for all what she does.
You will be welcomed to her classes with a big smile, so come ready to learn a lot but especially to have fun while making your own pieces of jewelry guided by Kristal through the process. You will love her classes that much that you will be all the time looking forward to the next one!
Margo Ronson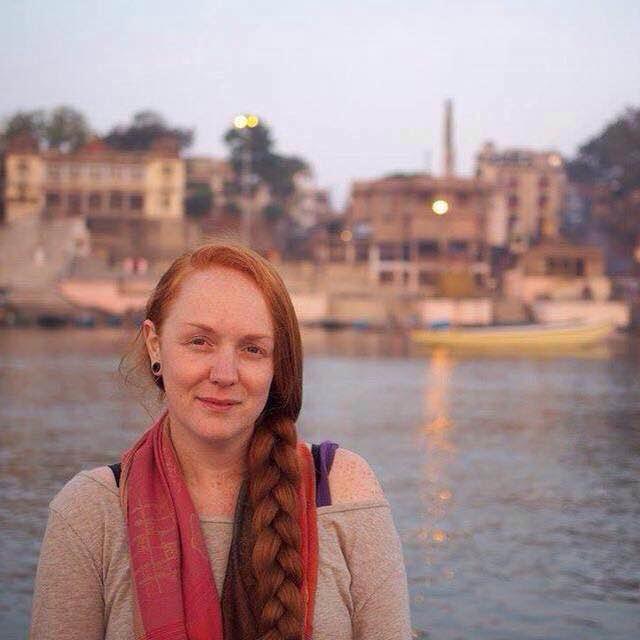 Margo
designs and creates handmade artisan jewellery using a variety of materials and techniques. Being a creative soul and curious by nature
Margo
is always learning new techniques and honing her skills as a metalsmith and craftsperson. Eager to learn and feed her creative fire and curiosity, she moved to Peru in 2005 to work in tourism. While there for almost a decade she learnt many silversmithing, macrame and jewellery techniques from local artisans, government schools, creative masters in the field, and she also took several private workshops. Now she is incorporating all that she knows into unique pieces inspired by her travels and the natural beauty of the world around us. Her vision is to create quality jewellery that expresses bold individuality, and she is always willing to share her knowledge.
Margo
is new to Vancouver and eager to share her creative passions offering macrame jewellery making classes at Soigné.
Verena Strigler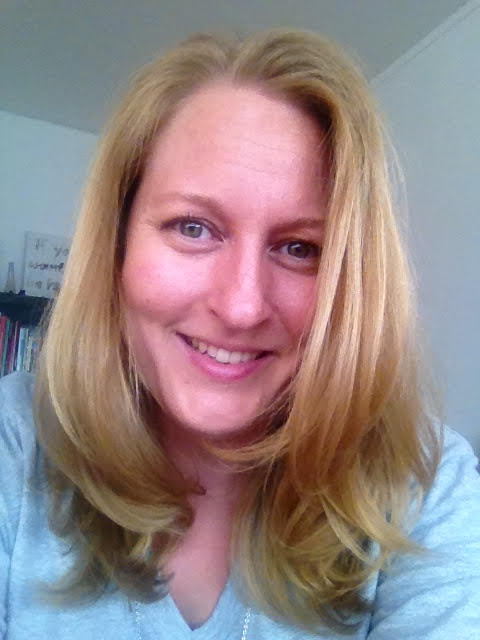 You can see by the uniqueness of her jewelry and her ability to make the ordinary, extraordinary, that Verena Strigler was meant to create.
A German born and educated goldsmith, Verena first came to Vancouver in 2004 and worked at a jewelry retail front, designing and handcrafting one-of-a-kind pieces for Vancouver's elite.
While satisfying work, after 3 years Verena, a traveler by heart, felt the urge to wander the world and applied to work as a jeweler on board international cruise ships.
The sights she experienced and the people she met during this time left an imprint on Verena that later became the muse behind her first jewelry line. And as fate would have it, she also met the love of her life.
With Verena's debut jewelry line, she has put to use her years of experience to create pieces that are meant to put a smile on any wearer's face. Her jewelry is lighthearted, fun, and unique. It is strongly inspired by her worldwide travels and Verena hopes that when you wear one of her pieces, it will inspire you to embark on your own adventures, because if not now, when?
Alicia Meek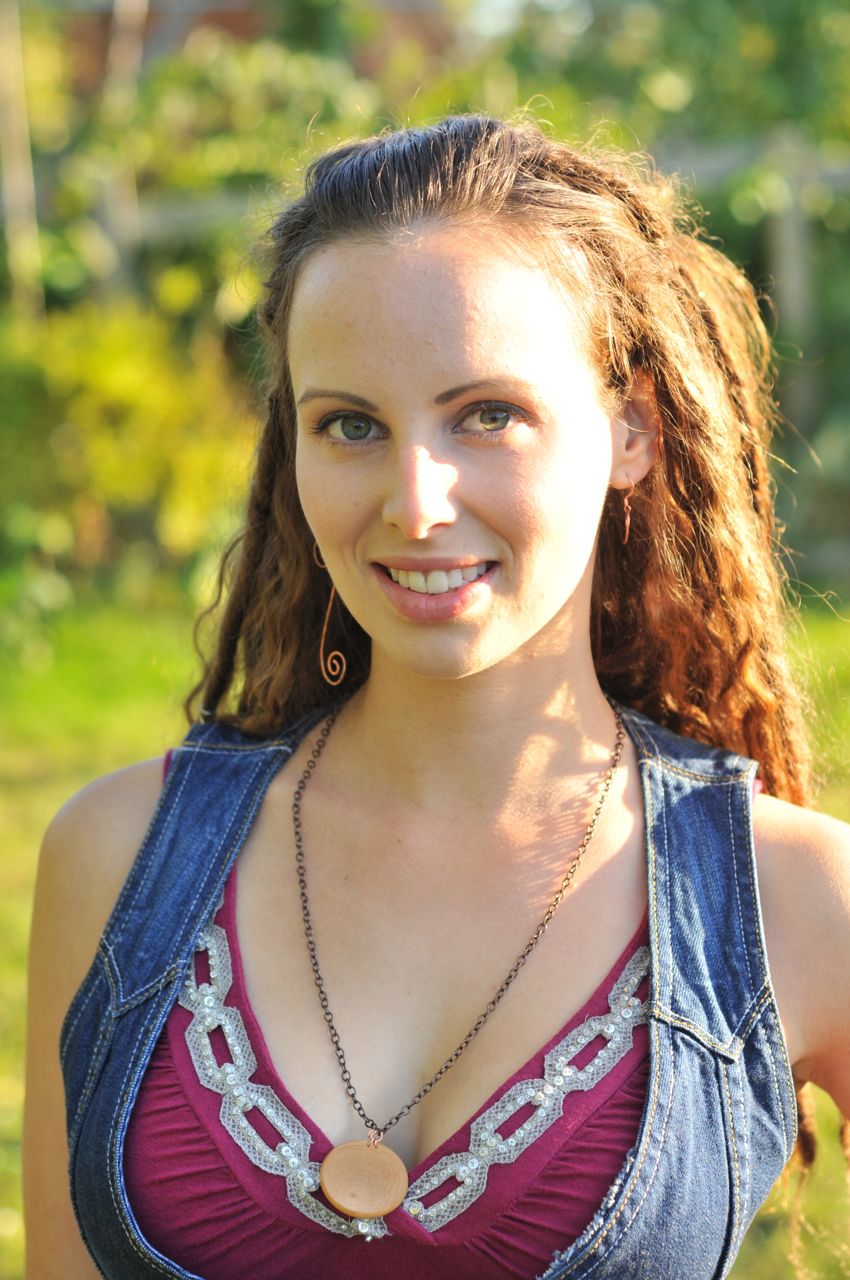 I began taking jewelry classes in 2008 and quickly became entranced and obsessed with the wide variety of methods that allowed me to create beautiful works of art I never could have imagined! I started with the basics metal smithing course at Soigne, and quickly worked my way through the majority of their classes, while making good friends with the owner, Beata Kacy. My dream of being an instructor at Soigne has come true!

Nicci Yeo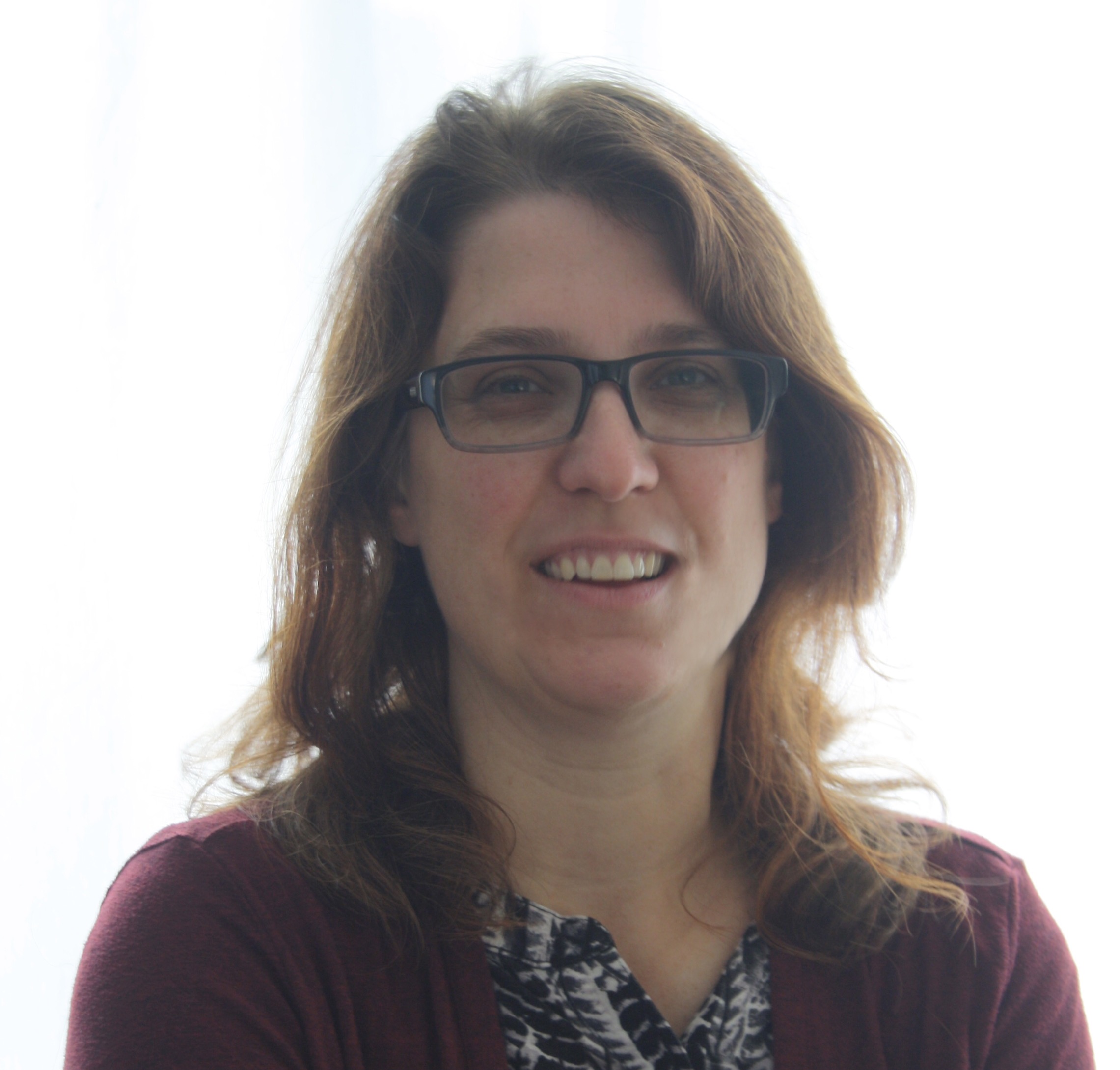 Nicci
is a fabric designer who uses dye to design unique fabrics for sewers, quilters and home décor. A creative at heart
Nicci
has studied the use of fabric reactive dyes and indigo for over 7 years, teaching herself the Japanese method of tie dye called Shibori. She loves the task of figuring out how a pattern was made so she can reverse engineer it. She is looking forward to sharing her love 
of the mess that becomes the design.
Serena Chu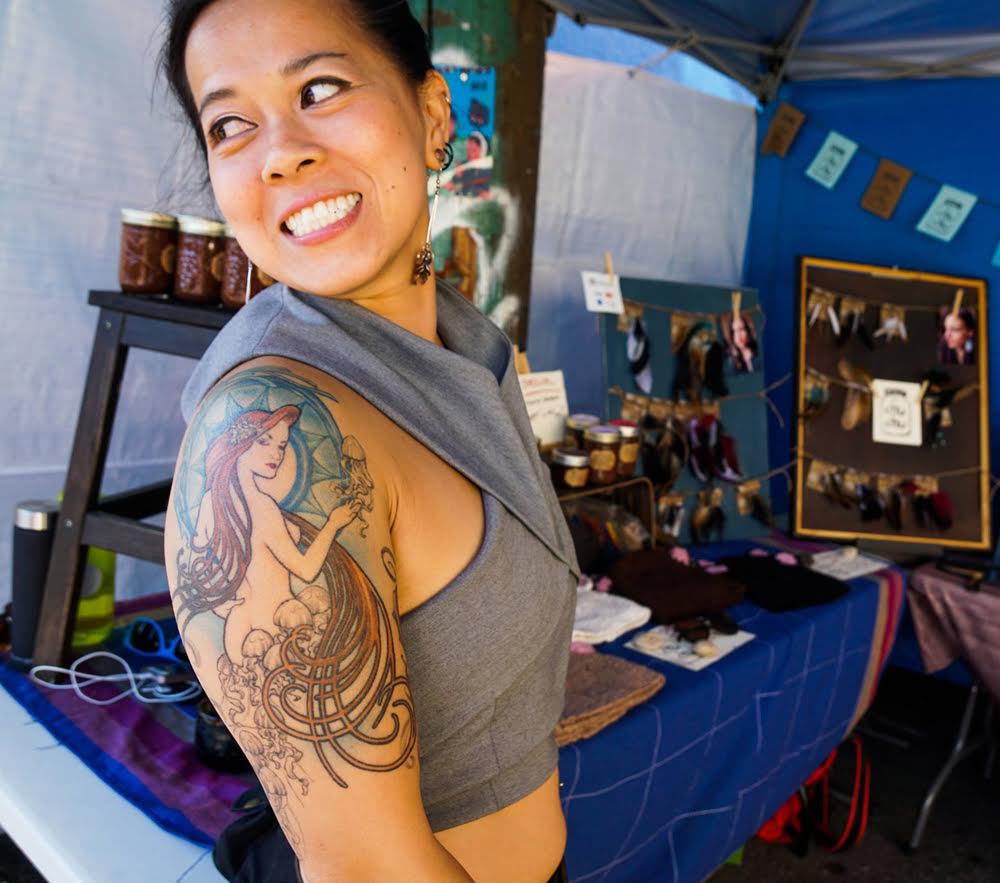 Serena is a gregarious visual artist originally from Toronto.  A jack-of-all-trades, she explores a multitude of interests including graphic design, pottery, and preserving.  She teaches several workshops in Vancouver from canning/preserving jams and pickles, feather jewellery making, knit and crochet lessons, hand crafted stationery and much  more.  Each workshop is jam packed with information, helpful tips on technique and where to buy materials.  Her teaching style is fun and welcoming to all skill levels and ages.
Beata Dolecki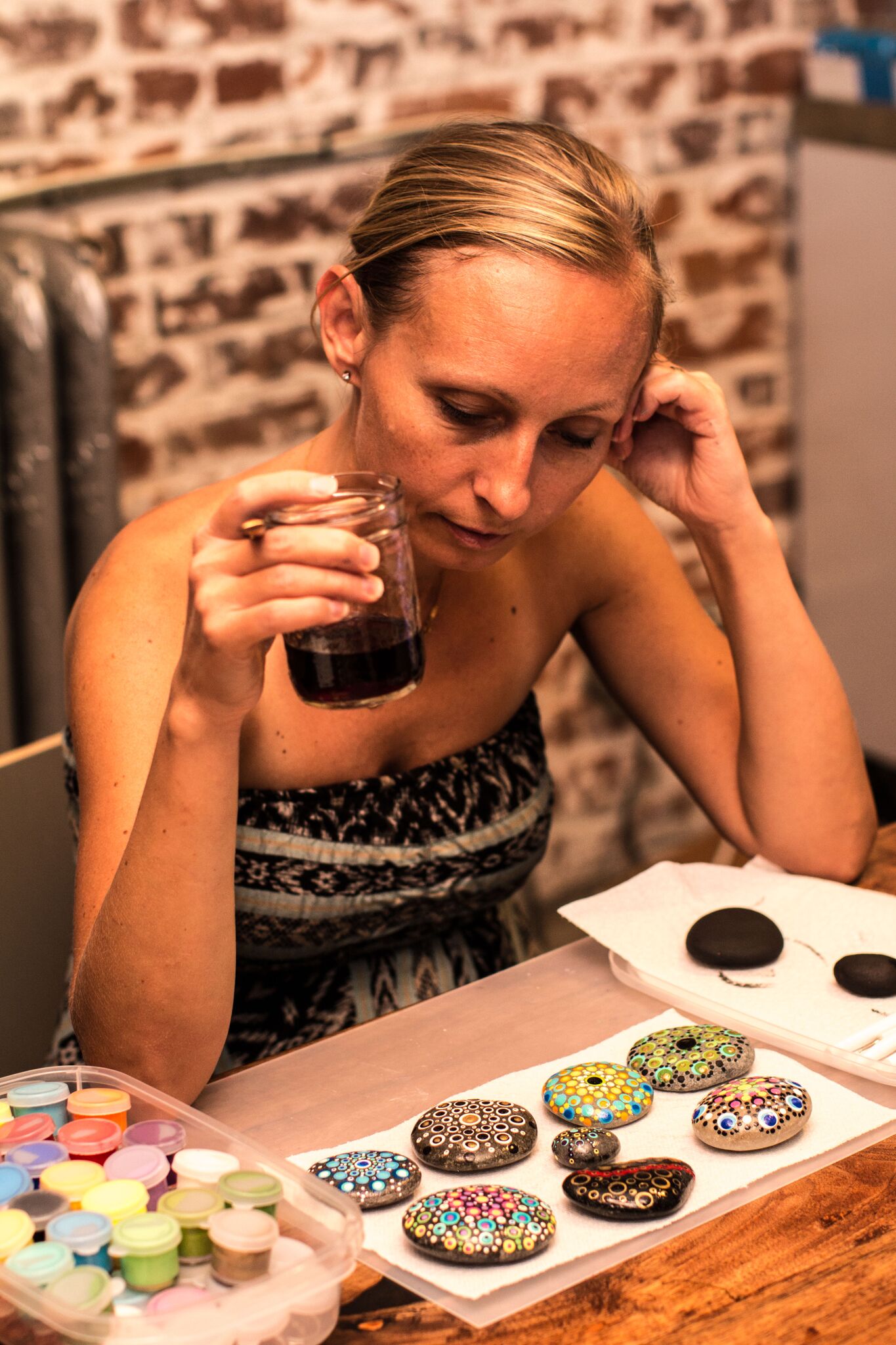 Originally from Poland, Beata, as a little girl was fascinated and inspired by her father's trips to India, Nepal and South America. The colors and traditions of those ancient cultures always captivated her attention, putting wanderlust adventures in her father's footsteps on her bucket list. It was also in her childhood when she started dreaming about becoming a fashion designer. She was constantly drawing and sketching, but after designing several pieces of clothing, shoes and jewelry, Beata decided to get her Master's degree in HR and property management and put her creative desires to rest.
Many years later her creative desires came calling back, reminding her that they never really left and only grew stronger. It was then Beata decided to leave the corporate world and explore where her inspirations could take her. Be ready to let go and discover a piece of this release of inner creativity within your heart. Beata's Mandala Stone class is very relaxing and students leave the Studio with two beautifully painted stones and joyful sense of creative satisfaction.
Michella Demo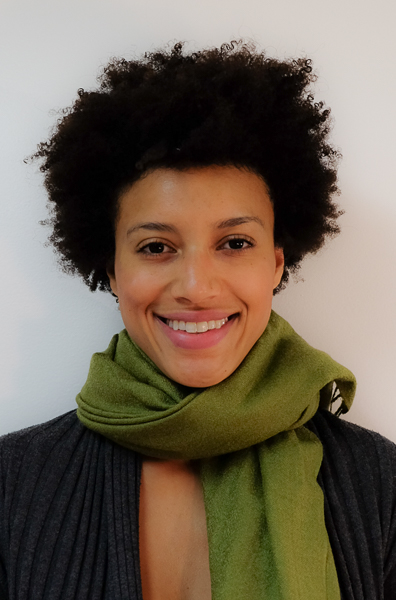 A creative at heart, Michella Domo finds inspiration in the mysteries that lay all around her. Her curiosity to explore, travel, discover, and learn, leads her on a path of adventure, which she expresses in her creations. Fueled by an intrinsic nature to create, she designs and manufactures jewelry, metal structures and paintings. Her fascination to discover "how things work" led her to BCIT, where she studied Mechanical Engineering and graduated with her Diploma in 2016. Now, she is co- owner of Ethos Myth Design Inc. and is excited to share her passion with the world. She aspires to inspire others through knowledge and freedom! When coming to her class, expect to gain some techniques and fire, so join her for a class full of
empowerment!

Share on Facebook