ABOUT
Based in the heart of Vancouver art scene, Soigne is the place where just about anyone's artistic fantasies and crafting desires can be fulfilled. You can take classes in a wide array of mediums, including:
The Art of Mixed Media Jewelry Design
Accessory Design and Making
Soap and Beauty Products 101
At Soigne you can felt your own shawl, create your own line of beauty products or even make a trendy piece of jewelry that will have everyone's eyes on you! The class schedule is flexible enough to fit just about anyone's calendar. You can catch us sharing our artwork with the greater Vancouver community.  East Side Culture Crawl and Ayden Gallery are just a few of the locales where Soigne participates in local craft scene.
A fully illustrated tutorial will be provided for each class and you can take home a few ready pieces in just 3 hours ! Prior crafting experience is unnecessary. Cultivate your hidden artistic talents at Soigne! We are available for private parties, events and birthdays.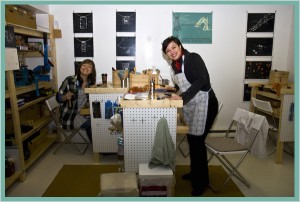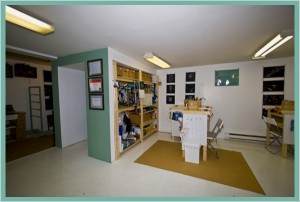 BEATA KACY, Soigne Director, Craftsman and Life Addict
Originally from Poland, Beata Kacy is the creator and founder of Soigne and Octopus Studios and it's 20 resident Artsits. With over 14 years of digital media experience, Beata has worked in many domains including software, interactive touchscreen, web, and over 8 years specifically in the console and casual gaming markets. With a Master's Degree in Marketing Management and a Bachelor in Computer Science. Beata further honoured her artistic sense by attending Vancouver Film School and graduated with Certificate of Excellence. She is also a graduate from Emily Carr University where she studied Fine Arts in Practice. She is the only Canadian holding Precious Metal Clay Teachers Certificate and  Hadar Jacobson Art in Metal Clay Accreditation Program. After moving to Vancouver in 2001 she discovered her new passions and followed it with Skiing Instructor under CSIA-Canadian Ski Instructor Alliance, as well as Rock Climbing Instructor under ACMG-Association of Canadian Mountain Guides. As a Certified Rescue Scuba Diver Beata discovered her interest in human body motion under the water and she established her Underwater Photography project  www.undersee.ca.

She pursues her life's bliss in the outdoors, finding art, in all its forms, wherever she goes. A bohemian at heart, most of her life was spent studying, experimenting with, and learning the behaviors of different medias. You can often see her expressing her creative passions on the streets of Vancouver with a camera, or in her art studio making and teaching jewelry. She has cultivated her artistic outlook during her travels around the ancient globe.

FAMILY INVOLVEMENT
As a child, Beata fell in love with sewing and knitting which just so happened to peak her mother Jolanta's interest as well. Both mother and daughter have been united in their passion for creating unique artwork since Beata's childhood, as long as they both can remember. As Beata has evolved as an artist so too have the mediums she uses to create her art. Now instead of only using soft materials like wool and felt, Beata's art has become more daring and edgy in rock solid materials like metal, stone, glass and concrete. Jolanta has also evolved to become a artisan in the art forms of jewelry and accessory making. Mother and daughter can often be found, side-by-side, in a studio of Beata's making, spending their days doing what they love best…creating. Life imitates art at Soigne where creating works of art for others to rejoice in is a family affair. Beata's Father, Jan is also committed to Soigne. Beata refers to him as her 'right-hand man' in the art of soap making where he masterfully melts, mixes, scents and whips together the most delectable creations.

PARTNERS IN CRIME
A thread of love also runs through the veins of Soigne as Beata and her partner, Nik Palmer (www.palmerandsons.ca) , support each other in all of their artistic endeavors. Both of these up and coming artists share their passion for creating artwork while also being supportive of one another. On any given day, Nik and Beata can be found at Octopus Studios (www.octopusstudios.ca) working on their latest art project side by side.

ROOTS
A rich history of art and cultural design has made Soigne what it is today. Beata Kacy thinks that wealth of creativity and ingenuity goes all the way back to her grandmother. Bronislawa Stepniewska Klimek, was a passionate artist and teacher. She roamed the lush hills of Poland and taught her handicrafts to whomever showed an interest. In 1922, she settled into a career as a teacher in a female-exclusive high school called Wyzsza Szkola Gospodarstwa Domowego that was founded by educator Earl K. Roztworowski. Bronislawa was an expert in several different mediums of art including home economics. In her formative years, She herself attended a preparatory school for girls that featured courses in home décor, sewing, good manners and cooking, which also included subjects like wine and liquor distillation. It would be the lessons she learned in school that she would choose to pass on to others. Bronislawa was a highly sought after and respected teacher.
The Kacy family has uncovered a veritable treasure trove of documents and photographs that have revealed a glimpse into Bronislawa's life and charted the course of creativity that would map out 100 years of creativity for the entire family. In one photo, Bronislawa sits proudly amongst her students who clearly adored her. And in another Bronislawa smiles, as her students display some of the creations they have made in their hands. As for the documents, the Kacy family has discovered several testimonials, written in Polish, attesting to the creative capabilities of Bronislawa. There is even a lesson plan that Bronislawa wrote out herself, in Polish, as she planned activities for her students to engage in. Stay tuned to Soigne as her granddaughter Beata translates the document into English and shares it with the world! Little could Bronislawa know at the time that her adventures in art, handicrafts and teaching would stand the test of time and color the world of her entire family.
More than 100 years have passed and Bronislawa's granddaughter Beata now walks in the shadow of her footsteps. Beata is also a seasoned artist who, like her grandmother, has chosen to share her love of art with the world through her incredible creations and the classes she teaches in her studio. The circle of creativity continues in the Kacy family and there is little doubt that the lessons learned will be passed on to future generations.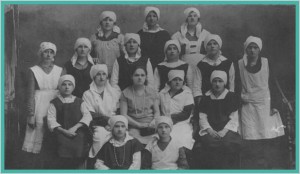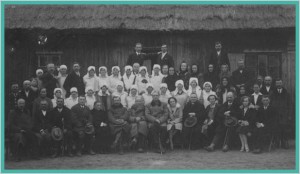 ~ about Beata by Heather Mohhamad
It takes the thoughtful eye of a seasoned artist to pick up on life's daily nuances. Someone who has the innate ability to see the value in things which others might deem insignificant, like supple clay harvested from the Earth and molded into something exquisite. Beata is one such artist who paints the world with a whole other palette.  She has traveled the globe to fuel her passion for art in whatever form she finds it, thus fuelling her passion for all things created, whether by man or Mother Nature. Originally from Poland, and currently residing in Vancouver, Beata began her love affair with creating works of art alongside her mother, Jolanta, when she was just a child as she passed the days away knitting and sewing. As she grew into a full-fledged artist, Beata began experimenting with other mediums such as clay, concrete, resin, stone and glass. With a Master's Degree in Marketing Management and a Bachelor of Arts Degree in Computer Science, Beata further honed her artistic sense by attending Vancouver Film School. She is also a graduate from Emily Carr University where she studied Fine Arts in Practice.
On any given day, Beata can be found hard at work in her studio creating masterpiece quality jewelry and accessories. She runs her own studio alongside her partner Nik Palmer, called Octopus Studios (
www.OctopusStudios.com
on the East Side of Vancouver. Beata's studio is currently home to 25 artists who are cultivating their own crafting expertise at the helm of a true artistic master. Soigne Atelier was born from her passion for metalwork, nature and photography. All 3 aspects combined together allow her to explore different methods of jewelry making using glass, wood, metals, cement, resin, images and found objects. Beata's designer jewelry has been showcased in Ginger 62, Ayden Gallery, Arts of Main. Locally, her designs are available at Portobello West or Maker Faire.
With a keen eye for finding beauty in the most unexpected places, Beata took her love for photography to a whole new level with the publication of her first book, 'Desiderata', which is comprised of more than 200 breathtaking photographs from her travels in South East Asia and South America. 'Desiderata' represents people, their minds and souls. Her second book contains both photography and art. It is a collaborative masterpiece entitled 'Conjunction' that she created with three other artists.
Beata touches the lives of others through her crafting and reaches out to other artists wanting to perfect their craft at the side of this seasoned artisan. She holds classes in her studio for a variety of art mediums.
Using the energy of good karma as her moral compass, Beata is fun loving, energetic and a fierce sportswoman. When she is not creating gorgeous works of art, Beata might just find herself climbing the face of a mountain or, possibly, skiing down it.


Share on Facebook